If you are suffering from an injury or illness, it may be that you need prescription medication to help you. However, these can often carry potentially harmful side effects. Doctors and pharmacists must take care to correctly write and fill prescriptions in order to make sure that the dose is correct. If mistakes are made that result in unnecessary harm to the patient, could that be grounds for a medical malpractice lawsuit?
Let's take a closer look at this type of situation and whether or not you need a Medical Malpractice lawyer in Knoxville to offer assistance.
Undisclosed Side Effects
It is widely known that almost all medications come with associated side effects. Some of them can be fairly severe, but in most cases, such side effects are infrequent. However, pharmaceutical companies are required to disclose these side effects adequately. If they fail to do so, then it could mean that patients who experience undisclosed side effects would be able to file either a medical malpractice lawsuit or perhaps a product liability claim against the manufacturer.
Duty of Care for Dispensing Prescription Drugs
Whenever a doctor decides to prescribe medication to their patient, they have a legal duty of care to consider various factors to ensure the patient's wellbeing. These include:
Weighing up the benefits and potential risks of using the medication in relation to the patient's overall health
Checking any possible adverse interactions with other medicines that the patient is already using
The appropriate dosage for the patient based on their age, weight and overall health
Assessing the known side effects of the medication and how they might impact the patient
There are also some additional factors for other health care professionals involved in the prescription process. For example, a pharmacist must take care to read the prescription correctly, fill it appropriately with the correct medication, and offer any necessary advice or warnings to the patient when dispensing the drug. Another example would be if medication is administered by injection or an IV line. The nurse, doctor, or other provider completing the procedure has a duty of care to make sure the dosage is correct, and the procedure is done hygienically according to the proper protocols.
If any of these protocols are not followed, and the patient ends up becoming unwell, then they could potentially have grounds for a medical malpractice lawsuit.
Prescription Drugs & Medical Malpractice Lawsuits
If you are going to file a medical malpractice lawsuit concerning prescription drugs, there are several things that you will need to be able to prove. Contacting a medical malpractice lawyer in Knoxville is an excellent place to start, as they should be able to advise if you have enough proof to proceed with your case. The elements that will need to be proven will include:
Demonstrating that you took the medication as instructed by a healthcare professional
Prove that your doctor did not take the necessary steps to warn of potential side-effects or complications
Evidence that the medication or dosage dispensed by a pharmacist was different from what should have been prescribed
Proof of wrongful administration of the medication – this is likely a malpractice suit against the hospital rather than an individual nurse
Provide expert testimony that establishes the link between the medication error and your injuries
It is also necessary to demonstrate that you have suffered sufficient damages that you would be eligible to be compensated
If you believe that you have a potential medical malpractice lawsuit relating to prescription medication, then it is a good idea to start keeping notes regarding your medication and any advice that you have been given. You should then contact a medical malpractice lawyer in Knoxville to discuss your potential lawsuit.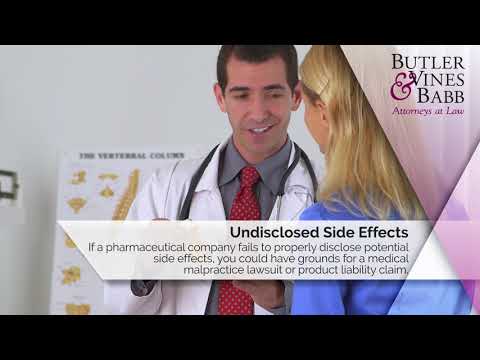 -
Butler, Vines and Babb is a leading law firm in Knoxville, TN, with extensive litigation experience in Medical Malpractice Law, Birth Injury Law, Trucking Accident Law, Personal Injury Law, and Business Law. Contact us today at www.bvblaw.com or call 865-637-3531.
Please reference BV&B's content disclaimer (located in this channel's profile description) in regard to this shared content.