One of the most significant categories of personal injury is medical malpractice. Whether it is a misdiagnosis or a surgical error, when you have been harmed by medical professionals who have acted negligently, you will need a medical malpractice lawyer to help file a personal injury lawsuit.
However, a quick search for a Medical Malpractice lawyer in Knoxville will yield lots of results, so how do you know which one to choose? Let's take a look at a few tips for choosing the right medical malpractice lawyer to represent you.
How Much Experience Does the Lawyer Have in Medical Malpractice?
Although it falls under personal injury law, medical malpractice is relatively complex and has many unique challenges. That means the lawyer you choose needs to have experience as a medical malpractice lawyer. Ask for examples of previous cases they have represented or get recommendations from friends and colleagues to make sure you find a law firm that has prior experience in medical malpractice law.
Check Out Their Credentials
Once you have a shortlist of candidates to represent you as your medical malpractice lawyer, you should narrow it down by looking a little deeper into their credentials.
Are they a member of any associations and professional bodies?
Check the Bar Association to see if they are in good standing.
Look at their online presence – is it professional and active?
Take a look at online reviews.
Talk to Your Preferred Medical Malpractice Lawyer
Once you have a good idea about which medical malpractice lawyer in Knoxville you would like to work with, it is a good idea to talk with them in person, either on the phone or at a face to face consultation. It is important to feel comfortable with your lawyer. You may need to discuss personal or even distressing details with a medical malpractice lawyer, so it is helpful to have someone you feel comfortable talking to.
Other Considerations
Aside from the points already mentioned, there are several other things you might want to take into consideration when choosing your medical malpractice lawyer. A few of these might include the following:
What percentage of their cases to trial or mediation? If the firm has a reputation for settling before trial or mediation, then, insurers may be aware of this and take advantage of the fact.
Ask about fee agreements. Will the medical malpractice lawyer you have chosen work on a contingency fee basis, meaning they will be paid a percentage of the damages collected.
Ask about any special requirements you have. For example, would you benefit from choosing an attorney who speaks another language, such as Spanish?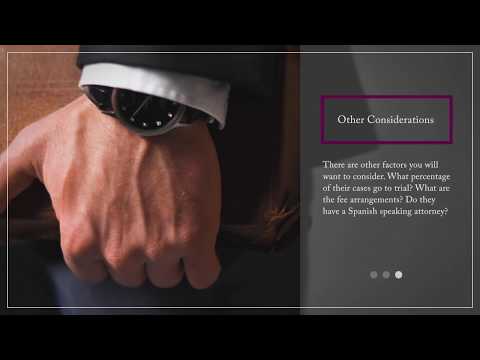 -
Butler, Vines and Babb is a leading law firm in Knoxville, TN, with extensive litigation experience in Medical Malpractice Law, Birth Injury Law, Trucking Accident Law, Personal Injury Law, and Business Law. Contact us today at www.bvblaw.com or call 865-637-3531.
Please reference BV&B's content disclaimer (located in this channel's profile description) in regard to this shared content.